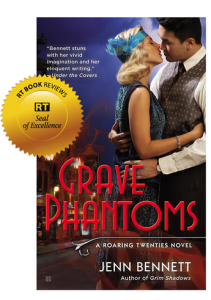 So honored and humbled that RT Book Reviews has awarded the third Roaring Twenties book, Grave Phantoms, their May Seal of Excellence.  You can read more about the award and all the kind and lovely things the editors had to say about the book here on their website. Bo and Astrid's story is quite special to me, so this means a lot.
In other news, I flew to Dallas a couple of weeks ago to accept a Reviewers' Choice Award for the first book in the series, Bitter Spirits, and had a wonderful time meeting readers, librarians, bloggers, reviewers, editors, and book lovers of all stripes! I signed books, got to attend a private showing of Pitch Perfect 2 (with my agent, Laura Bradford, and my agent-mate, Ann Aguirre—thank you, Ann!), gave away some swag, and talked on a UF panel (with Chloe Neill, Ilona Andrews, Richelle Mead, and Jennifer Estep). The most exciting moment of all was when one of my biggest literary crushes, Stephanie Perkins (Anna and the French Kiss), who was also accepting an award right before me, whispered off-stage that my dress was pretty. I ALMOST DIED, people. Anyway, thanks to all of you who came out to see me!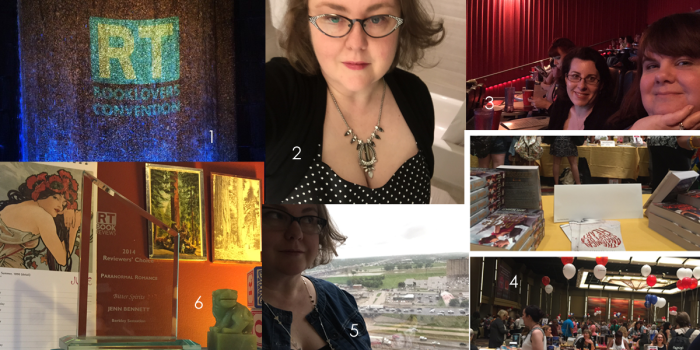 Photos:
1) Fountain outside Hyatt hotel in Dallas
2) Dress Stephanie Perkins told me was pretty. (I think I then told her she was my hero. Not sure. I nearly blacked out.)
3) Beautiful ladies, my agent Laura Bradford and NYT bestseller Ann Aguirre.
4) Giant Book Fair and my signing table.
5) Rainy day in Dallas.
6) Back home in Atlanta, my award for Bitter Spirits proudly displayed!