ROARING TWENTIES

Sexy romance wrapped in paranormal mystery set in 1920s San Francisco. Each book is a standalone HEA romance, featuring members of the Magnusson family.
(Click on above covers to jump to individual book details or scroll to see them all below.)
-
BOOK 1: BITTER SPIRITS
"An inventive setting, delightfully sharp-tongued characters, white-hot chemistry, and wry, subtle humor."  —Molly Harper, bestselling author of the Nice Girls vampire series
"A sizzling-hot yet swoon-worthy love story with a mystery that keeps you guessing until the end." —Kristen Callihan, author of the Darkest London series
"Complex and smart romantic leads…Expect historical romance authors and fans to eagerly hop on the Roaring '20s bandwagon, following Bennett's very able lead." —✭ Publishers Weekly (Starred Review)
"Absolutely delightful…stirs intrigue, paranormal activity, and romance into a wonderfully refreshing brew… Bennett's fast-paced dialogue, often witty and sharp, as well as her charming characters and detailed setting, will truly captivate romance readers." —✭ Booklist (Starred Review)
"The combination of sizzling sex, gritty danger and paranormal thrills adds up to one stupendous read!" —RT Reviews TOP PICK, ✭ ✭ ✭ ✭ 1/2
-
It's the roaring twenties, and San Francisco is a hotbed of illegal boozing, raw lust, and black magic. The fog-covered Bay Area can be an intoxicating scene, particularly when you specialize in spirits…
Aida Palmer performs a spirit medium show onstage at Chinatown's illustrious Gris-Gris speakeasy. However, her ability to summon (and expel) the dead is more than just an act.
Winter Magnusson is a notorious bootlegger who's more comfortable with guns than ghosts—unfortunately for him, he's the recent target of a malevolent hex that renders him a magnet for hauntings. After Aida's supernatural assistance is enlisted to banish the ghosts, her spirit-chilled aura heats up as the charming bootlegger casts a different sort of spell on her…
On the hunt for the curseworker responsible for the hex, Aida and Winter become drunk on passion. And the closer they become, the more they realize they have ghosts of their own to exorcise…
On-sale date: January 7, 2014 (UK: Feb 20th, French Canadian edition coming soon)
Publisher: Berkley Sensation (Penguin Random House)
Formats: mass market paperback, eBook, audiobook
ISBN: 0425269574
Page count: 317
US cover art: Aleta Rafton
Add it to your To-Read shelf: | Goodreads | Booklikes | Librarything |
Peek at my character and setting inspiration on Pinterest: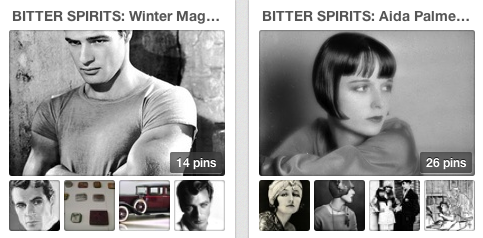 -
Bitter Spirits excerpt…
As Aida passed through the room, her breath rushed out in a wintery white puff.
Ghost.
She cautiously approached the main office. The door was cracked. She hesitated and listened to a low jumble of foreign words streaming from the room, spoken in a deep, male voice. Beyond the cloud of cold breath, she saw a woman with traditional Chinese combs in her hair, on which strings of red beads dangled. Bare feet peeked beneath her sheer sleeping gown. She stood behind a very large, dark-headed man wearing a long coat, who stared out a long window that looked down over the main floor of the club.
In Aida's experience, ghosts did not move around—they remained tethered to the scene of their death. So unless someone died in Velma's office tonight, a ghost shouldn't be here. Shouldn't be, but was. Strong ghosts looked as real as anyone walking around with a heartbeat.
But even if the woman with the red combs hadn't been dressed for bed, Aida would've known the man was alive. He was speaking to himself in a low rumble, a repeating string of inaudible words that sounded much like a prayer.
Ghosts don't talk.
"Is she your dance partner?" Aida said.
The man jerked around. My. He was enormous—several inches over six feet and with shoulders broad enough to topple small buildings as he passed. Brown hair, so dark it was almost black, was brilliantined back with a perfect part. Expensive clothes. A long, serious face, one side of which bore a large, curving scar.
He blinked at Aida for a moment, gaze zipping up and down the length of her in hurried assessment, then spoke in low voice. "You can see her?"
© Jenn Bennett 2013
-

BOOK 2: GRIM SHADOWS
"Bennett plumbs the depths of a 1920s San Francisco beset with eerie overtones in her latest rollicking-good tale." —Booklist
"In the astounding second book in Bennett's Roaring Twenties series, the underbelly of San Francisco is once again a hot spot of magical danger and some sexy sizzle." —RT Book Reviews, ✭ ✭ ✭ ✭ 1/2 stars
"A thrilling, action-filled tale…another winning entry in Bennett's Roaring Twenties series." —Fresh Fiction
It's the roaring twenties in foggy San Francisco. Prohibition is on, inhibitions are low, and dark magic is rolling into town…
Archaeologist Lowe Magnusson is packing something everyone wants. The djed amulet, a priceless Egyptian artifact, will fetch Lowe a hefty paycheck from one of San Francisco's wealthiest. But when the handsome Swede runs into his patron's uptight daughter, what he once considered easy money becomes a maddening complication…
Cursed with deadly spirits as her constant companions, curator Hadley Bacall must keep calm to hold her dangerous specters at bay and prevent them from lashing out at anything—or anyone. Trouble is, Lowe is driving her crazy, but her father needs the artifact he's transporting. While Hadley can feel the amulet's power, she can't fathom the destruction—or the desire—it's about to stir up.
On-sale date: June 3, 2014
Publisher: Berkley Sensation (Penguin Random House)
Formats: mass market paperback, eBook, audiobook
ISBN: 0425269582
Standalone HEA romance featuring Winter's brother as the hero (characters from Bitter Spirits also make appearances in this book)
AUDIOBOOK LINKS: Tantor Audio | Amazon
Cover reveal on Heroes and Heartbreakers
Peek at my character and setting inspiration on Pinterest: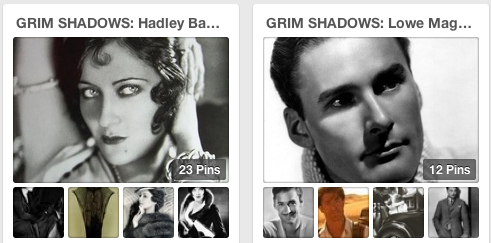 -
BOOK 3: GRAVE PHANTOMS
In 1920s San Francisco, a flapper pursues a forbidden romance with her bootlegging brother's second-in-command during a historic storm that beaches a long-lost boat filled with people who shouldn't be alive. (More details to come.)
On-sale date: May 2015

Publisher: Berkley Sensation (Penguin Random House)

Formats: mass market paperback, eBook, audiobook

Bo and Astrid's HEA
Peek at my inspiration boards on Pinterest: