This weekend the annual Sci-Fi/ Fantasy/ Horror/ Music/ Gaming/ Costume- Lovers' Dragon*Con descended upon Atlanta, bringing with it over 35,000 50,000 people. Many came in elaborate costumes, which ran the gamut from 40-year-old Harry Potter to pitch-perfect Wookie. In between were hundreds of Doctor Whos, Johnny Depp Mad Hatters, and far too many cloth hair extensions and steampunk variations to count (brown is definitely the new black).
Chris Gore tweeted that Dragoncon is "a sluttier Comic-Con." Though I haven't been to Comic-Con for comparison, I'm still going to hazard a guess that this is true. There is a LOT of skin, and most of it is skin you'd rather not see—jiggling and/or sagging, pale, and smeared with bad theatre makeup. And it wasn't just the ladies showing their wares: there was a Kilt-Blowing contest two nights in a row; yes, that's exactly what you think it is.
I've attended Dragoncon before, but this was the first time I attended multiple days and had some sort of a plan to follow. Granted, most of that time was spent waiting for one thing or another: waiting for your badge for 2 1/2 hours (some waited for 4 hrs or more), waiting to see Mythbuster legend Adam Savage (and finding out the line was already filled and closed off outside the hotel). There was also a lot of shuffling, bumping into people with swords, and holding my breath when I passed by groups of #showerfail furry costume-wearers.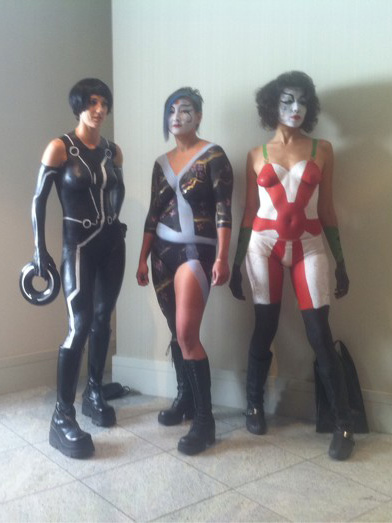 But despite all the annoying parts of Dragoncon, there were some pretty good parts too. I got to meet my editor, Jen Heddle, who was incredibly nice, smart, and funny. Got to see some family friends and local peeps. Met several authors and artists, and met some folks I only previously knew online. I also attended several writing panels that were interesting. Even saw a few famous people…and some formerly famous people.
All in all, it was an entertaining weekend.
When next year's Dragoncon rolls around, my first book will have been published, so I'm thinking about signing up for a couple of panels. The bad part: unless you're a NYT Besteller, the writing panels' attendance levels are a mixed bag (partly because the writers track is sequestered away in a quiet part of the Hyatt). The good part: VIP badge pickup. No line!
Which, of course, leaves more time to queue-up for something else.