If you haven't seen it yet, Riveted revealed the cover of my next book. It's called Starry Eyes, and it features a goth boy and an astronomy-loving girl who are exes and members of rival families. What happens when they get stuck in the California wilderness together? You'll find out April 2018! Until then, check out the BEAUTIFUL cover (by the very talented Sarah Creech) and the description below.
(Did I mention that I did some pretty adorable drawings for the book's interior?)
More info available at RivetedLit!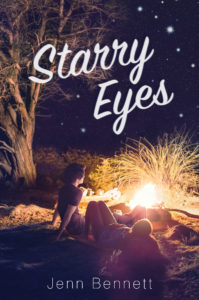 A teen girl's way-too-ordinary life is driven off the beaten path when she's abandoned in the wilderness with her worst adversary—the boy who broke her heart.
Ever since last year's homecoming dance, best friends-turned-best enemies Zorie and Lennon have made an art of avoiding each other. It doesn't hurt that their families are the modern day, Californian version of the Montagues and Capulets.
But when a group camping trip goes south, Zorie and Lennon find themselves stranded in the wilderness. Alone. Together.
What could go wrong?
With no one but each other for company, Zorie and Lennon have no choice but to hash out their issues via witty jabs and insults as they try to make their way to safety. But fighting each other while also fighting off the forces of nature makes getting out of the woods in one piece less and less likely.
And as the two travel deeper into Northern California's rugged backcountry, secrets and hidden feelings surface. But can Zorie and Lennon's rekindled connection survive out in the real world? Or was it just a result of the fresh forest air and the magic of the twinkling stars?