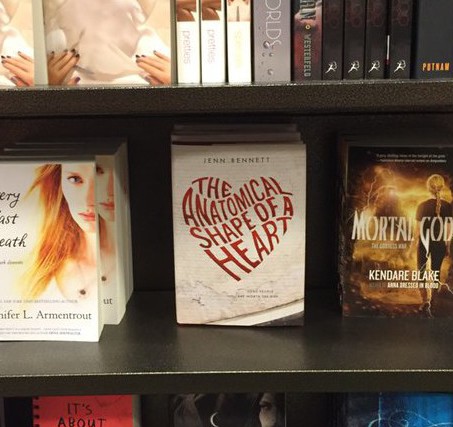 The wait is over: The Anatomical Shape of a Heart, my first YA contemporary romance book, goes on sale today in the U.S. and Canada. Commence confetti-throwing! It's sold in hardcover (a beautifully designed hardcover, inside and out, with tons of details and surprises—I mean, WOW), and should be available in most bookstores. If you see it in the wild or buy a copy for yourself, tweet/FB/instagram (or whatever your fave method) me a pic of it. I always love seeing it in its natural habitat: on bookshelves and in readers' hands!
Giveaways
If you follow me on Twitter, you've probably noticed I've been giving away signed books and jewelry. (If you're not following me, get on that, why dontcha?) I'll be giving away another signed book (maybe more) there this month. Also of note: my publisher set up a blog tour with some giveaways. You can check out the dates/links on Fierce Reads.
What's Next?
Lastly, as many of you already know, the book was already released in the U.K./Australia/New Zealand under the title Night Owls this summer. It was also published in a lovely German hardcover edition. I've received so many wonderful emails and messages from readers around the world over the last few months, and I appreciate all the love and enthusiasm for this book. Thank you for caring about Jack and Bex's story. Hold tight: I will have good news to share about future books on both sides of the Atlantic! In the meantime, there's still much to be excited about, including the Spanish and Portuguese editions, which release this spring.
Book Description and Links:
Beatrix Adams knows exactly how she's spending the summer before her senior year. Determined to follow in Leonardo da Vinci's footsteps, she's ready to tackle the one thing that will give her an advantage in a museum-sponsored scholarship contest: drawing actual cadavers. But when she tries to sneak her way into the hospital's Willed Body program and misses the last metro train home, she meets a boy who turns her summer plans upside down.
Jack is charming, wildly attractive . . . and one of San Francisco's most notorious graffiti artists. On midnight buses and city rooftops, Beatrix begins to see who Jack really is—and tries to uncover what he's hiding that leaves him so wounded. But will these secrets come back to haunt him? Or will the skeletons in Beatrix's own family's closet tear them apart?