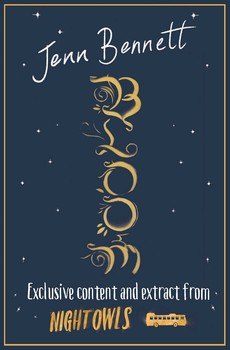 Do you live in the U.K., Australia, or New Zealand? Are you dying to get your hands on my YA debut, Night Owls, and can't wait until 13th-August? Do you read on a digital reader? Well, you're in luck, my friend, because my fine U.K. publisher is giving away three free bundles of joy for your perusal!
Titled after three of the words my graffiti artist hero, Jack, spray-paints across San Francisco in gold, Bloom (Night Owlet 1), Celebrate (Night Owlet 2), and Rise (Night Owlet 3) contain teasers of Night Owls chapters, plus exclusive essays written by yours truly, and other nifty things, like playlists, my favorite YA reads, and much more.
Did I mention that they are free?
Need more convincing? Here's an introduction from my UK editor. And a funny GIF-filled post from Maximum Pop.
NOW WHAT ARE YOU WAITING FOR?
Go download them from the retailer of your choice!
Bloom (Night Owlet 1): AMZ UK or S&S UK (links to several online retailers here) or S&S AU
*Sorry, non-digital readers. Sorry also to my American readers. Be patient, and you never know: maybe one day soon you'll get cool, fun stuff from my American publisher, too!