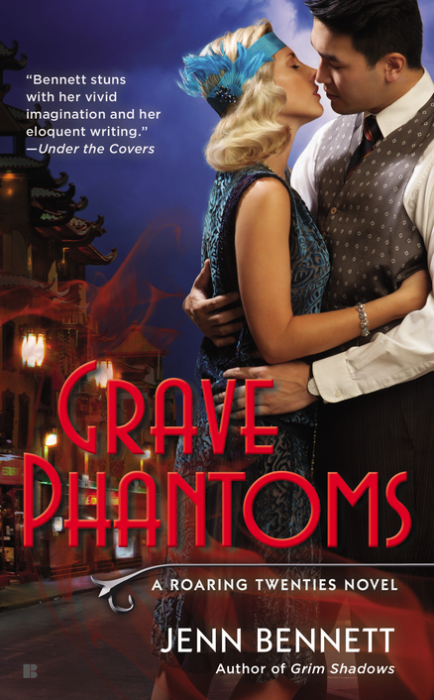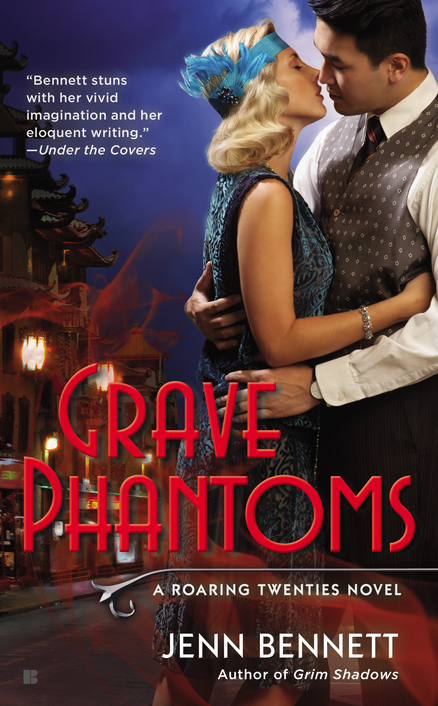 It's been a busy week for the characters in my Roaring Twenties series. Winter and Aida snagged a coveted spot on Publishers Weekly's Best Books of 2014, and now Bo and Astrid are in stunning color on the cover of the third book in the series, Grave Phantoms. I'd planned on revealing the cover copy for this in my newsletter, but the publisher accidentally leaked both it and the cover art online. Oops! Their mistake is your gain, so enjoy!
Once again, the cover art is from Bay Area artist, Aleta Rafton. I love everything about it: the San Francisco Chinatown background, the brilliant colors, Astrid's dress, and the hunky male model standing in for Bo. As I said on Twitter this week, the Bo on the cover is a bit beefier than I imagine the Bo in the books, but who's complaining? Not me! Hot Asian model for the win! Kudos to my publisher, Berkley/Penguin, for proudly featuring a diverse couple on the cover.
Coming soon: expect an exclusive excerpt from the book to tide you over until the May 5th release day!
---
Grave Phantoms (Roaring Twenties #3)
Feisty flapper Astrid Magnusson is home from college and yearning for the one thing that's always been off limits: Bo Yeung, her notorious bootlegging brother's second-in-command. Unfortunately her dream of an easy reunion proves difficult after a violent storm sends a mysterious yacht crashing into the Magnussons' docks. What's worse, the boat disappeared a year ago, and the survivors are acting strangely…
Bo has worked with the Magnusson family for years, doing whatever is needed, including keeping his boss's younger sister out of trouble—and his hands to himself. Of course, that isn't so easy after Astrid has a haunting vision about the yacht's disappearance, plunging them into an underground world of old money and dark magic. Danger will drive them closer together, but surviving their own forbidden feelings could be the bigger risk.