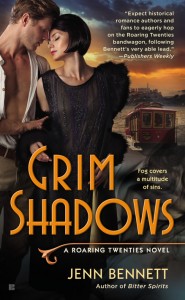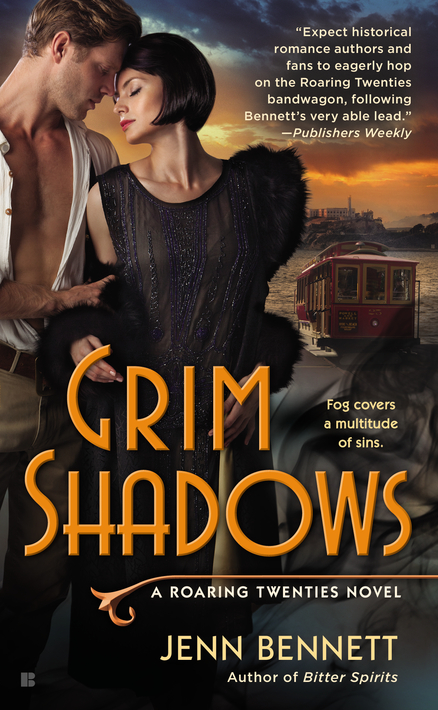 A crafty scoundrel. A deadly dame. An urban treasure hunt for a cursed Egyptian object in 1920s San Francisco. GRIM SHADOWS is the second book in my Roaring Twenties historical paranormal romance series, following BITTER SPIRITS. This time around, the story focuses on the younger Magnusson brother, Lowe, who is a treasure hunter and charming liarpants. He falls for an icy museum curator, Hadley Bacall, who wields a strange and deadly army of dark spirits that feed off her emotions and attack when she gets angry.
And she gets angry at Lowe a lot.
It's an opposites-attract romance when the two of them must hunt down parts of a amulet that Hadley's deceased mother hid around San Francisco. This one is slightly more paranormal than the first book, and follows a more mystery-driven plot. (Don't worry: there's still plenty of dirty sex and romantic angst!)
Need a few more reasons to pick it up? Here's what people are saying:
"Bennett plumbs the depths of a 1920s San Francisco beset with eerie overtones in her latest rollicking-good tale." —Booklist
"In the astounding second book in Bennett's Roaring Twenties series, the underbelly of San Francisco is once again a hot spot of magical danger and some sexy sizzle." —RT Book Reviews, ✭ ✭ ✭ ✭ 1/2 stars
"A thrilling, action-filled tale…another winning entry in Bennett's Roaring Twenties series." —Fresh Fiction
"The story is fun, the sex is hot, the characters are interesting." —Smart Bitches, Trashy Books
"A rollicking adventure…Grim Shadows is a tale that will keep readers enthralled." —Heroes and Heartbreakers
"I could live off Jenn Bennett's books and the hot Magnusson brothers. 5+ stars" —Rabid Reads
"There's no sophomore slump for the Roaring Twenties series – Jenn Bennett knows how to keep the thrills coming." —Wit and Sin
"With high octane action-adventure scenes in a highly creative world, Jenn Bennett stuns with her vivid imagination and eloquent writing. GRIM SHADOWS is not one to be missed!" —Under the Covers
"[An] exciting storyline, well-drawn characters, strong and authentic historical backdrop, and unique paranormal elements." —Delighted Reader
"Fun, funny, action-packed with great sexual tension." —Smexy Books
"A wickedly fun paranormal romance, complete with danger, and mystery." —The Readers Den [Bonus: Check out this blogger's picks for Lowe and Hadley on Pinterest]
---
GRIM SHADOWS
It's the roaring twenties in foggy San Francisco. Prohibition 

is on, inhibitions are low, and dark magic is rolling into town…
Archaeologist Lowe Magnusson is packing something everyone wants. The djed amulet, a priceless Egyptian artifact, will fetch Lowe a hefty paycheck from one of San Francisco's wealthiest. But when the handsome Swede runs into his patron's uptight daughter, what he once considered easy money becomes a maddening complication…
Cursed with deadly spirits as her constant companions, curator Hadley Bacall must keep calm to hold her dangerous specters at bay and prevent them from lashing out at anything—or anyone. Trouble is, Lowe is driving her crazy, but her father needs the artifact he's transporting. While Hadley can feel the amulet's power, she can't fathom the destruction—or the desire—it's about to stir up.
On-sale date: June 3, 2014
Publisher: Berkley Sensation (an imprint of Penguin Random House)
Mass market ISBN: 0425269582
Standalone HEA romance featuring Winter's brother as the hero (characters from Bitter Spirits also make appearances in this book)
AUDIOBOOK LINKS: |Tantor Audio | Amazon |