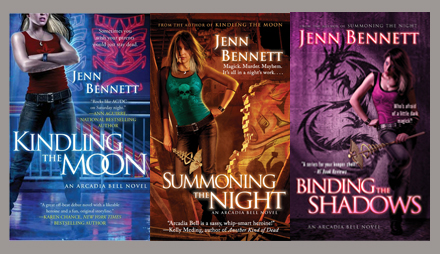 Stumbling around on Facebook one afternoon, I noticed someone who looked awfully familiar. Her name is Renee Alivra, and as it turns out, she's the cover model for Cady on all the Arcadia Bell books. I promptly stalked her, of course, and I'm so glad I did. Because not only is she lovely and the personification of Cady, she's also a super nice and charming person. I thought readers would like getting a peek inside how the covers were made from her point of view.
EXTRA! EXTRA! The very talented and hardworking cover artist, Tony Mauro, who's done all three covers (and is working on the 4th), says Renee is "the best." He's kindly donating an exclusive one-of-a-kind signed 9″ x 12″ print of the artwork for BINDING THE SHADOWS to one lucky reader! So take a look at what Renee has to say, then see details below the interview on how you can get your grubby hands on this exclusive promo! [UPDATE JUNE 5: WINNER HAS BEEN CHOSEN AND NOTIFIED]
INTERVIEW WITH RENEE ALVIRA, COVER MODEL
Jenn: What do you do when you're not being Arcadia Bell?
Renee: When I'm not being Arcadia Bell, I'm a full time student and part time RN.  I'm looking forward to going back in the fall for my Master's degree to become a nurse practitioner. I work on a medical/surgical floor specializing in ortho, neuro, and bariatric surgery. My job is amazing, but very busy. It's definitely worth it though.
I come from a big family. There are 11 kids in my family, and I'm the second oldest.  I've been married for 9 years, and have an 8 year old daughter who races motocross.  I love watching movies, hiking, camping, and now dirt-biking!  I just started riding a dirtbike, and it's super fun.  Unfortunately, I lack coordination, so my attempts at keeping the bike on two wheels are a definite fail sometimes lol!  I'm really easy-going, and keep an open mind. I like to try new things, and I'm not afraid to get dirty! I don't take myself too seriously either. I can definitely laugh at myself when I mess up.
Jenn: How did you get started modeling for Tony Mauro, and how many book covers have you done with him?
Renee:
Tony contacted me online after he saw some of my pictures about 5 years ago. He said that I had the right look for a book cover he was working on. I was a little leery at first because there aren't many legit photographers in the area. After seeing his work, I was really impressed!  It was a great opportunity, and I'm excited to see the next covers. I just shot for the
fourth cover
, and it went really well. He's such an amazing artist, and very professional to work with. I think the last cover I shot will make 7 books altogether. I also did a
Darkness Falls calendar
, which was really cool, too.
Jenn: I can't wait to see the 4th cover! When you modeled for the first Arcadia book, KINDLING THE MOON, did you know anything about Arcadia's character? For example, did you know you were posing as bartender, or that the books were supernatural? (I guess I'm wondering if you have to get "in character" to pose, or if Tony just says "stand here and tilt your head to the right," LOL!)
Renee: HAHAHA! Wait, were you there? LOL, I do take a lot of directions like that!  The last one I shot, he was trying to capture me naturally walking.  In some shots I looked like a caveman because I was attempting to exaggerate my stride! It's always good for a laugh to see my bloopers, lol! I really try to imagine the character that Tony describes to present that in the shots, but sometimes after doing the same pose again and again, I lose focus and start smiling.  I try to tell myself that Arcadia Bell is not cheery, she's dangerous…. HA!
Jenn: Do your friends and family ever point at your covers in bookstores and tell other customers "I know that girl!"
Renee: I don't know if anyone has ever done that, but I do know that when a new book comes out I usually take the trip to the mall to get one. I just make the purchase, and nobody has ever said, "hey, that's you!" I would feel weird to come out and say to anyone, "Look, it's me!" LOL!  Some of the covers they've cut my head off the cover too. Oh, btw, thanks for not cutting my head off the cover lol!  My daughter just made the connection that I'm on the cover of books.  On one cover, I'm chained up. My daughter was like, "mom, why are you chained up in someone's basement there?"  I'm like, "you know, it's kinda my thing." HAHA!
Jenn: Ha! Best thing ever! Okay, one last question: which is your personal favorite Arcadia cover so far, and why?
Renee: The newest cover is my absolute favorite so far.  Binding the shadows has a really cool feel to it. I love the colors, and can't wait to get a copy when it comes out. I think it keeps getting better and better. I love Arcadia's dark side, too! Keep em coming!
———————————————————————————————
EXCLUSIVE GIVEAWAY!
———————————————————————————————
For a chance to win this exclusive 9×12″ print of BINDING THE SHADOWS beautiful artwork starring Renee as Arcadia, signed by Tony Mauro himself, comment and tell us which is YOUR favorite Arcadia cover: KINDLING, SUMMONING, or BINDING.
THIS IS THE ONLY PRINT LIKE THIS ON EARTH. As Jupe would say, hel-lo! That's pretty darn exclusive. And it's beautiful and glossy, and about the size of a magazine cover, and Tony was kind enough to donate it. You definitely want this.
Random winner will be chosen on June 5th!  

[UPDATE JUNE 5: WINNER HAS BEEN CHOSEN AND NOTIFIED]