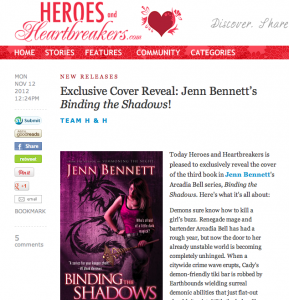 In case you missed it, Heroes and Heartbreakers did an exclusive cover reveal for the next full-length Arcadia Bell book, BINDING THE SHADOWS (releases on May 28, 2013). Consensus so far is folks seem to dig it! I won't lie: I LOVE IT. I think it's the best Arcadia cover so far. Once again, the wonderful Tony Mauro did the artwork, and this Cady model is even closer to the Cady in my mind than the first two.
Lots to love about this one. First, Cady's plumped up in the breast department—rawr! Second, the caduceus staff she's holding EVEN HAS THE GRAPHITE PLUG AT THE END. Nice worldbuilding-accurate detail! Third, the creature on the wall is a BIG part of the plot for books #3 and #4. (And it's a serpent, not a dragon.) Fourth, the color is gorgeous. Fun fact: purple is Jupe's favorite color (mentioned at the very end of SUMMONING).
Here it is below. What do you think?