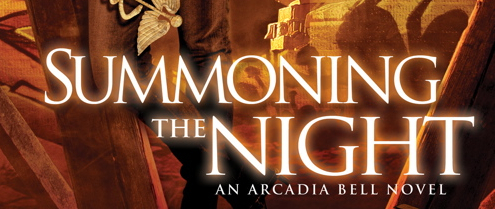 It's officially out in the wild, folks! You can now go to your favorite retailer and purchase SUMMONING THE NIGHT, whether that be online or in a good, old-fashioned brick-and-mortar store.
I worked hard on this book, and I'm damn proud of it. You'll meet new characters, discover old characters in a different light, and, of course, spend some quality time with Cady, Lon, and Jupe.
I've seen a few authors instructing their readers exactly how and where to buy their stuff to maximize sales. But from my view, wherever the heck you want to buy it is a good place. And if you're broke, there are tons of opportunities to win a copy online over the next few weeks. Or there's the library. Who doesn't love libraries?
BLOG TOUR
I'll be hopping around online, doing interviews and guest blogs and chats, many of them with giveways. Here's a partial list of some places you can find me over the next week. (Will update with links as they go live, and add more blog stops happening the following week, so check back in.)
Guest blog at Paperback Dolls: It's a Family Affair—why my UF has heart (April 24)
Surprise giveaway by amazing UF author Suzanne McLeod—linking to the post I did last year for her, in which I whine that my mother didn't like my book (April 24)
Guest blog at Tombstone Tails: Music That Inspired SUMMONING—a list of songs I listened to when writing the book (April 25)
Guest blog at Wicked Lil Pixie: Freaky Tiki Geekery—how I got seduced by Tiki (April 26)
Interview at Fangs, Wands, and Fairy Dust—in which I talk about Cady & Lon's sex life, and in which I make more than one typo. Oops. I'll blame that on too much caffeine, LOL! (April 30)
Guest blog at Tote Bags 'n' Blogs: Blurring Lines and Breaking Rules: UF vs. PNR—in which I talk about series that don't conform to their sub-genres (May 1)
Interactive guest blog at Bitten By Books: Demons Are People, Too—in which I give Earthbound demons some love (May 1—answering questions live all afternoon starting at 1pm)
Interview at the Qwillery—in which I reveal which character in the book is most like me (May 2)
Interview at Books to Brighten Your Mood—in which I dream about the possibility of a Young Adult book from Jupe's POV (May 2)
Guest blog at Dark Faerie Tales: Beta is Better—all about Lon (move to May 9)
Guest blog at She Wolf Reads: Five by Five—a week-long event featuring authors discussing books five books that have inspired them (May 10)
Guest blog at Miss Vain's: in which I'm allowed to pass on one interview question . . . but I don't! (early May)