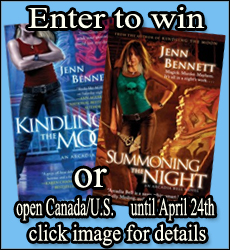 Do you want to know how long it took me to get published? What I wrote last year that was too crazy for the world to see? Non-spoily spoilers for books beyond SUMMONING THE NIGHT?
Then mosey on over to the totally fantastic Canadian book blog, Yummy Men and Kick Ass Chicks, and read my exclusive tell-all interview with Julie.
I love Julie. She's witty, cool, a busy mom, and still makes time to read and make funny balloon animals. She's said an awful lot of nice things about my stuff, and she's also somehow managed to get more secrets out of me than I planned on sharing.
So go read it, and if you're hankering for a signed paper copy of KINDLING or SUMMONING, you can comment at her blog to enter a giveaway—going on until Tuesday, so hurry!